20 Generosity Quotes to Put on Your Fridge
There's nothing like a good quote to stop you in your tracks, make you think, and ultimately change the way you live.
Quotes about generosity can do just that. The best ones make you pause and think, inspiring you to live in kindness and generosity as you go about your day.
Stick these quotes all around your house: on the fridge, your bathroom mirror, or in your car! Put them in places that will consistently remind you about the best way to live—with a generous heart.
1. "Money is but one venue for generosity. Kindness is an even more valuable currency." — Alan Cohen
2. "You have not lived today until you have done something for someone who can never repay you." ― John Bunyan
3. "Joy comes from giving your life away" —Brad Formsma
4. "A kind gesture can reach a wound that only compassion can heal." —Steve Maraboli

5. "Live simply, love generously, care deeply, speak kindly, leave the rest to God." ― Ronald Reagan
6. "I've never met an angry, bitter, generous person. So, I want to be generous." — Brad Formsma
7. "Your greatness is not what you have, it's what you give." — Anonymous
8. "Remember that the happiest people are not those getting more, but those giving more." — H. Jackson Brown Jr.
9. "Unless we think of others and do something for them, we miss one of the greatest sources of happiness."
— Ray Lyman Wilbur
10. "Every sunrise is an invitation for us to arise and brighten someone's day." ― Richelle E. Goodrich, Smile Anyway
11. "We'll be known for our opinions. We'll be remembered for our love." — Bob Goff
12. "When you choose to live a generous life, you start to change and so does the world around you. Something incredible happens when giving becomes your own idea, not something you do out of duty or obligation."
― Brad Formsma, I Like Giving: The Transforming Power of a Generous Life
13. "Happiness doesn't result from what we get, but from what we give." — Ben Carson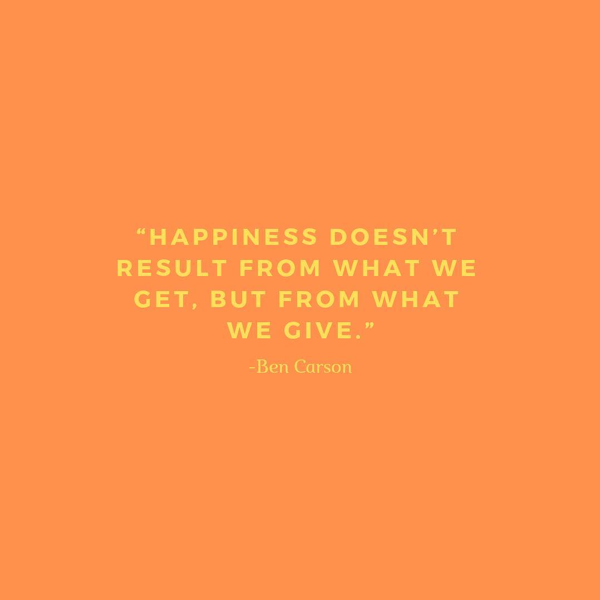 14. "Give what you have. To someone, it may be better than you dare to think."
― Henry Wadsworth Longfellow
15. "A generous heart, kind speech, and a life of service and compassion are the things that renew humanity."
― Anonymous
16. "Generosity isn't an act. It's a way of life." ― Chip Ingram
17. "It's not how much we give, but how much love we put into giving." — Mother Theresa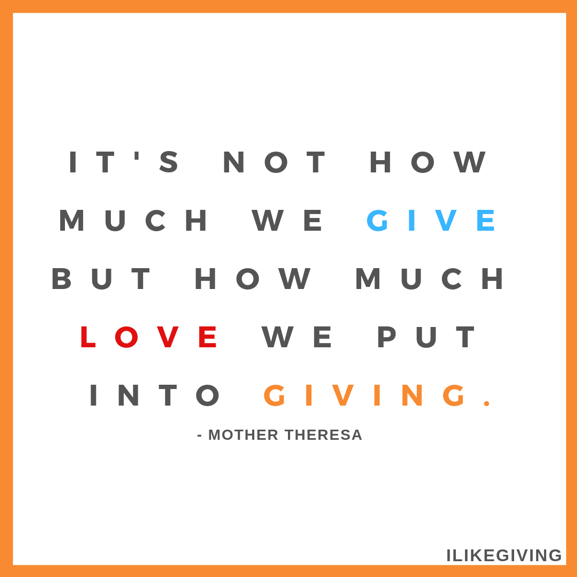 18. "Generosity isn't a dollar amount; it's an attitude." — Brad Formsma
19. "Sometimes when we are generous in small, barely detectable ways, it can change someone's life forever."
— Margaret Cho
20. "Outrageous generosity is the most fun you will ever have with money." —Dave Ramsey